The 2016 Grammy Awards are already history  and now is the perfect moment to take a trip down to memory lane and see which were some of the most impressive Grammy performances that will never be forgotten
1.   Adele – Rolling in the deep (2012)
Adele suffered a vocal cord surgery, but that didn't stop her to sound like a goddess in this representation at the 2012 Grammy Awards.
Not to mention that "Rolling in the deep", a 2011 song, brought her some distinctions at the 2012 gala. If we all could be so successful trying to get back on our ex…
Feel the emotion on iTunes or Google Play.
2.  Elton John & Eminem  – Stan (2001)
We bet that this was the moment everybody started to doubt Eminem's sexual orientation, as holding hands with Elton John didn't help at all. But the duo was sensational. "Stan", launched in 2000, was a hit that brought Eminem great success.
Get the original Stan on iTunes or Google Play.
3.  Tina Turner & Beyonce- Proud Mary (2008)
Seeing Beyonce dressed so sexy surely delighted our view. And her duo with childhood role model Tina Turner got the public out to its feet.
Too bad for the audience that Tina chose the same sexy outfit, making men wanting to close their eyes. But hey, when she sang "Proud Mary" for the first time, in 1988, Tina Turner was also sexy as hell.
Be Proud Mary yourself. Feel the love on iTunes or Google Play.
4.  Daft Punk & Pharell & Stevie Wonder – Get lucky (2014)
The electronic duo teamed up with Pharell and soul legend Stevie Wonder, managing to deliver maybe one of the most impressive performances from the history of the Grammy Awards.
And the lads surely got lucky that night, getting home with four gramophone awards.  2013 was the year "Get lucky" hit the radios.
If you wanna catch the original sindtrack, find your copy here on iTunes or Google Play.
5.  Whitney Houston  – I will always love you (1994)
Whitney Houston gave the public goose bumps with this classic hit, making it a moment to be remembered after 22 years. "I will always love you" was on the soundtrack of the 1992 movie "Bodyguard".
I am sure you already have your copy of this timeless song. In case you don't have it on your new device, here is where you gotta go-  iTunes and Google Play.
6.  Michael Jackson – The way you make me feel & Man in the mirror(1998)
Michael Jackson didn't get to go home with any prize that year, but his performance on stage was no child's play. He almost go carried away to the potency of the message in the song. "The way you make me feel" and "Man in the mirror" were both released in 1987.
Make a change. Get it on iTunes or Google Play.
7.  Linkin Park & Jay-Z & Paul McCartney  – Numb/Encore & Yesterday (2006)
Paul McCartney was supposed to sing some lyrics from "Encore", but changed his mind on stage. Maybe he remembered the good old days…
This was the only time this mashup was sang outside rehearsals and it was excellent.
Listen to the original song on iTunes or Google Play.
8.  Christina Aguilera, Mya, Pink & Lil' Kim – Lady Marmalade(2002)
"Spice Girls" from the hood made quite a show in 2002. Dressed to impress, these four hot singers hypnotized the male audience with the theme song of the 2001 movie, "Moulin Rouge!"
Blast the silence in your heads. Go grab the number on iTunes or Google Play.
9.  Pink – Glitter in the air (2010)
Pink surprised us all with her gymnastic moves during her performance at the Grammy Awards. And she has that undying passion for music we all want.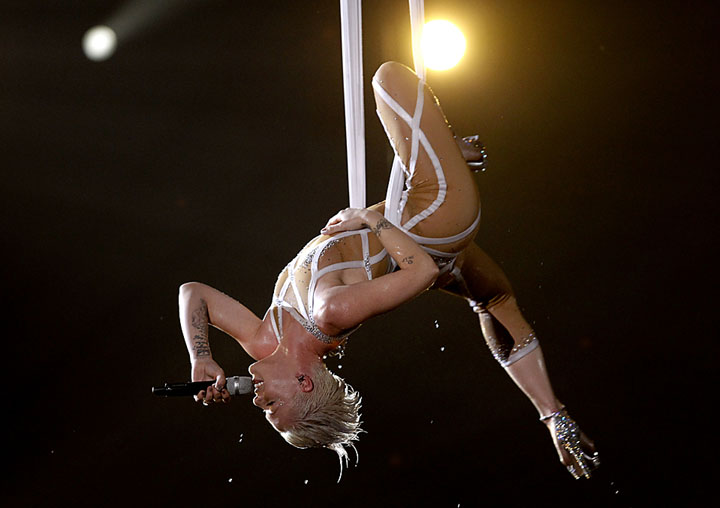 And, OMG, we still wonder how do men still run away from her when she's gifted with such acrobatic gestures. "Glitter in the air" was part of the 2008 album "Funhouse".
If you wanna gyrate to the same passion she created in this song, go get it on iTunes or Google Play.
10.  Lady Gaga  – Born this way (2011)
Lady Gaga isn't a boring presence at all, proven by her appearance at 2011's Grammy Awards, hatching from a giant egg on stage. Well, that explained a lot back then.
Released that year, "Born this way" made quite a fuss from the time it was laid.
If you have not heard this music get it on iTunes or Google Play.
11.  Jennifer Hudson – I will always love you (2012)
This tribute to Whitney Houston following her death surely broke some hearts and made even strong men cry.
And yes, even us, declared cavemen, shared some tears after such a moment. "I will always love you" is a Whitney Houston song from 1992.
The green princess chose to leave us. But we are left with her mesmerizing voice on iTunes or Google Play.
12.  Gorillaz & Madonna  – Feel Good Inc. & Hung Up (2006)
A team that no one would have expected, Gorillaz & Madonna, had a mind blowing performance at the 2006 Grammy Awards.
We admit that it was rather strange seeing Madonna interacting with holograms on stage, but we've seen the Pop Queen in even more awkward situations during her shows.
Feel the music by downloading it from iTunes or Google Play.