How many times have we heard this – "It wasn't like this when we were kids". In fact, this is a refrain heard in almost every household, by every adult at some point of time. The perception that childhood has changed is underscored by the generation gap tha runs in between family members. And what is worse, today there is a deepening communication gap to add to that void. BUt relax! Not all is lost.
Man always tries to better himself in the process introduces new lifestyles to his children and this is no different. And the best part is that none of the old glory of childhood is actually lost, although there are new colors in which they come now.
1. Attention span:
Accused all the time of being distracted, fidgety, not sitting still, kids of today get the rap for being hyperactive, and are much less likely to be characterized as slobs.
2. Playtime:
While indoor gaming consoles do make the posteriors bulky, the strategizing involved therein helps children soak up problem solving and lateral thinking skills – something the 90s did not offer in such sophistication
3. Physical fitness:
Monkey bars have been replaced by rock climbing walls. No couch potato kids if parents instill an interest in active hours
4. Books go up in Kindled flames:
Where once children strained their eyes on uncensored paperbacks, they now have their own e-readers and download fiction so reading is by no means taking a U-turn toward hieroglyphics
5. Exposure to world cuisine:
If variety is the spice of life, kids of today sample at least three cuisines in the course of a week, or even within a day
6. DIY is no longer nerdy:
Crafts bring out the creative and resourceful side of kids early, and it is not only the geeky, friendless kid who doodles or makes funny papier Mache
7. Tune on demand:
It was once the case that even the coolest kid had to wait until his favorite song came on the radio. Now the good kid gets an iPod from Santa! No waiting, no buffering – instant gratification beckons!
8. The career takes wings:
No longer are parents insisting that kids become extensions of their own dream selves or achieve what they themselves couldn't.
Kids today are exposed to unorthodox career paths, or go on to start their own ventures. Or custom-made jobs!
9. The boy and girl thing:
Empowered youth are vocal about their identity and gender roles are more flexible.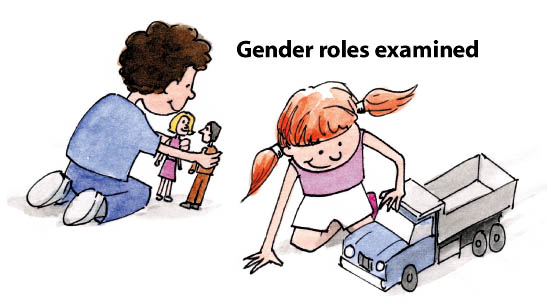 Girls cannot play with construction blocks and boys won't be caught dead messing around in toy kitchens? Not so anymore.
10. Family bonds, traditions:
Touching elders' feet and chanting hymns is passe.
Bonding over festivities and making the most of shared vacation time is only more possible now with far flung cousins catching up, planning road trips, and keeping tabs through social media.
11. Earning and funding:
Be it extra courses, hobbies, or the entire college education, children and youth today are equipped to pay their own way forward.
Smart students no longer drain out their parents' retirement funds and turn out to be smart workers.
Anthropologically speaking, several generations may have followed similar practices, but tiny changes can be noticed within a span of twenty-plus years, and never more so than between the 1990s children and the kids of 2010s.